Hello, Bookworms, I've been thinking of compiling this little list for a few months now, and I've finally stopped procrastinating to do it… So many of my favourite books are by Muslim or Middle Eastern Authors, and they deserve so much more hype. I've included a few timeless favourites, as well as some new releases! There's no specific genre, so I hope there's something for every reader.
---
Representing the Turkish beautifully is Elif! I have yet to read a novel by her, but I already know I'm going to love them all.
In her second novel written in English, Elif Shafak confronts her country's violent past in a vivid and colorful tale set in both Turkey and the United States. At its center is the "bastard" of the title, Asya, a nineteen-year-old woman who loves Johnny Cash and the French Existentialists, and the four sisters of the Kazanci family who all live together in an extended household in Istanbul: Zehila, the zestful, headstrong youngest sister who runs a tattoo parlor and is Asya's mother; Banu, who has newly discovered herself as a clairvoyant; Cevriye, a widowed high school teacher; and Feride, a hypochondriac obsessed with impending disaster. Their one estranged brother lives in Arizona with his wife and her Armenian daughter, Armanoush. When Armanoush secretly flies to Istanbul in search of her identity, she finds the Kazanci sisters and becomes fast friends with Asya. A secret is uncovered that links the two families and ties them to the 1915 Armenian deportations and massacres. Full of vigorous, unforgettable female characters, The Bastard of Istanbul is a bold, powerful tale that will confirm Shafak as a rising star of international fiction. (summary from goodreads)
This cover is beyond beautiful…I have no words.
Nahri has never believed in magic. Certainly, she has power; on the streets of 18th century Cairo, she's a con woman of unsurpassed talent. But she knows better than anyone that the trade she uses to get by—palm readings, zars, healings—are all tricks, sleights of hand, learned skills; a means to the delightful end of swindling Ottoman nobles.
But when Nahri accidentally summons an equally sly, darkly mysterious djinn warrior to her side during one of her cons, she's forced to accept that the magical world she thought only existed in childhood stories is real. For the warrior tells her a new tale: across hot, windswept sands teeming with creatures of fire, and rivers where the mythical marid sleep; past ruins of once-magnificent human metropolises, and mountains where the circling hawks are not what they seem, lies Daevabad, the legendary city of brass, a city to which Nahri is irrevocably bound.
In that city, behind gilded brass walls laced with enchantments, behind the six gates of the six djinn tribes, old resentments are simmering. And when Nahri decides to enter this world, she learns that true power is fierce and brutal. That magic cannot shield her from the dangerous web of court politics. That even the cleverest of schemes can have deadly consequences. (summary from goodreads)
Although I probably wouldn't have been interested in this book, I've heard SUCH great praise that I can't NOT read it!
An incendiary and utterly compelling thriller with a shocking twist that delves deep into the heart of institutionalized racism, from an exceptional new YA voice.
Welcome to Niveus Private Academy, where money paves the hallways, and the students are never less than perfect. Until now. Because anonymous texter, Aces, is bringing two students' dark secrets to light.
Talented musician Devon buries himself in rehearsals, but he can't escape the spotlight when his private photos go public. Head girl Chiamaka isn't afraid to get what she wants, but soon everyone will know the price she has paid for power.
Someone is out to get them both. Someone who holds all the aces. And they're planning much more than a high-school game… (summary from goodreads)
Another book in which I've heard nothing but good things. From stunning writing to fantastic rep and a very soothing read, this is a must-read!
Melati Ahmad looks like your typical moviegoing, Beatles-obsessed sixteen-year-old. Unlike most other sixteen-year-olds though, Mel also believes that she harbors a djinn inside her, one who threatens her with horrific images of her mother's death unless she adheres to an elaborate ritual of counting and tapping to keep him satisfied.
But there are things that Melati can't protect her mother from. On the evening of May 13th, 1969, racial tensions in her home city of Kuala Lumpur boil over. The Chinese and Malays are at war, and Mel and her mother become separated by a city in flames.
With a 24-hour curfew in place and all lines of communication down, it will take the help of a Chinese boy named Vincent and all of the courage and grit in Melati's arsenal to overcome the violence on the streets, her own prejudices, and her djinn's surging power to make it back to the one person she can't risk losing. (summary from goodreads)
We love a good contemporary romance, and that's exactly what "Accidentally Engaged" is; pick this one up for a fun and entertaining read!
Reena Manji doesn't love her career, her single status, and most of all, her family inserting themselves into every detail of her life. But when caring for her precious sourdough starters, Reena can drown it all out. At least until her father moves his newest employee across the hall–with hopes that Reena will marry him.
But Nadim's not like the other Muslim bachelors-du-jour that her parents have dug up. If the Captain America body and the British accent weren't enough, the man appears to love eating her bread creations as much as she loves making them. She sure as hell would never marry a man who works for her father, but friendship with a neighbor is okay, right? And when Reena's career takes a nosedive, Nadim happily agrees to fake an engagement so they can enter a couples video cooking contest to win the artisan bread course of her dreams.
As cooking at home together brings them closer, things turn physical, but Reena isn't worried. She knows Nadim is keeping secrets, but it's fine— secrets are always on the menu where her family is concerned. And her heart is protected… she's not marrying the man. But even secrets kept for self preservation have a way of getting out, especially when meddling parents and gossiping families are involved. (summary from goodreads)
If you haven't read this yet, what are you doing? Update, I have yet to read this, and I, in fact, don't know what I'm doing…
People lived because she killed. People died because he lived.
Zafira is the Hunter, disguising herself as a man when she braves the cursed forest of the Arz to feed her people. Nasir is the Prince of Death, assassinating those foolish enough to defy his autocratic father, the sultan. If Zafira was exposed as a girl, all of her achievements would be rejected; if Nasir displayed his compassion, his father would punish him in the most brutal of ways. Both Zafira and Nasir are legends in the kingdom of Arawiya–but neither wants to be.
War is brewing, and the Arz sweeps closer with each passing day, engulfing the land in shadow. When Zafira embarks on a quest to uncover a lost artifact that can restore magic to her suffering world and stop the Arz, Nasir is sent by the sultan on a similar mission: retrieve the artifact and kill the Hunter. But an ancient evil stirs as their journey unfolds–and the prize they seek may pose a threat greater than either can imagine. (summary from goodreads)
Another book I've had on my radar for a few months. Plus, that cover just has me in a trance.
From one of our boldest, most celebrated new literary voices, a novel about a young woman's efforts to duck the ills of the world by embarking on an extended hibernation with the help of one of the worst psychiatrists in the annals of literature and the battery of medicines she prescribes.
Our narrator should be happy, shouldn't she? She's young, thin, pretty, a recent Columbia graduate, works an easy job at a hip art gallery, lives in an apartment on the Upper East Side of Manhattan paid for, like the rest of her needs, by her inheritance. But there is a dark and vacuous hole in her heart, and it isn't just the loss of her parents, or the way her Wall Street boyfriend treats her, or her sadomasochistic relationship with her best friend, Reva. It's the year 2000 in a city aglitter with wealth and possibility; what could be so terribly wrong?
My Year of Rest and Relaxation is a powerful answer to that question. Through the story of a year spent under the influence of a truly mad combination of drugs designed to heal our heroine from her alienation from this world, Moshfegh shows us how reasonable, even necessary, alienation can be. Both tender and blackly funny, merciless and compassionate, it is a showcase for the gifts of one of our major writers working at the height of her powers. (summary from goodreads)
YES I KNOW I HAVEN'T READ THIS YET. YES I KNOW IT'S AMAZING, STOP YELLING!
Laia is a slave. Elias is a soldier. Neither is free.
 
Under the Martial Empire, defiance is met with death. Those who do not vow their blood and bodies to the Emperor risk the execution of their loved ones and the destruction of all they hold dear.
 
It is in this brutal world, inspired by ancient Rome, that Laia lives with her grandparents and older brother. The family ekes out an existence in the Empire's impoverished backstreets. They do not challenge the Empire. They've seen what happens to those who do.
 
But when Laia's brother is arrested for treason, Laia is forced to make a decision. In exchange for help from rebels who promise to rescue her brother, she will risk her life to spy for them from within the Empire's greatest military academy.
 
There, Laia meets Elias, the school's finest soldier—and secretly, its most unwilling. Elias wants only to be free of the tyranny he's being trained to enforce. He and Laia will soon realize that their destinies are intertwined—and that their choices will change the fate of the Empire itself. (summary from goodreads)
A must-read. My heart is still crying from this book.
The unforgettable, heartbreaking story of the unlikely friendship between a wealthy boy and the son of his father's servant, The Kite Runner is a beautifully crafted novel set in a country that is in the process of being destroyed. It is about the power of reading, the price of betrayal, and the possibility of redemption; and an exploration of the power of fathers over sons—their love, their sacrifices, their lies.
A sweeping story of family, love, and friendship told against the devastating backdrop of the history of Afghanistan over the last thirty years, The Kite Runner is an unusual and powerful novel that has become a beloved, one-of-a-kind classic. (summary from goodreads)
AN EMOTIONAL COMING-OF-AGE STORY..THAT'S ALL YOU NEED TO KNOW.
t's 2002, a year after 9/11. It's an extremely turbulent time politically, but especially so for someone like Shirin, a sixteen-year-old Muslim girl who's tired of being stereotyped.
Shirin is never surprised by how horrible people can be. She's tired of the rude stares, the degrading comments – even the physical violence – she endures as a result of her race, her religion, and the hijab she wears every day. So she's built up protective walls and refuses to let anyone close enough to hurt her. Instead, she drowns her frustrations in music and spends her afternoons break-dancing with her brother.
But then she meets Ocean James. He's the first person in forever who really seems to want to get to know Shirin. It terrifies her – they seem to come from two irreconcilable worlds – and Shirin has had her guard up for so long that she's not sure she'll ever be able to let it down. (summary from goodreads)
check out my review here!
In a star system dominated by the brutal Vathek empire, eighteen-year-old Amani is a dreamer. She dreams of what life was like before the occupation; she dreams of writing poetry like the old-world poems she adores; she dreams of receiving a sign from Dihya that one day, she, too, will have adventure, and travel beyond her isolated moon.
But when adventure comes for Amani, it is not what she expects: she is kidnapped by the regime and taken in secret to the royal palace, where she discovers that she is nearly identical to the cruel half-Vathek Princess Maram. The princess is so hated by her conquered people that she requires a body double, someone to appear in public as Maram, ready to die in her place.
As Amani is forced into her new role, she can't help but enjoy the palace's beauty—and her time with the princess' fiancé, Idris. But the glitter of the royal court belies a world of violence and fear. If Amani ever wishes to see her family again, she must play the princess to perfection…because one wrong move could lead to her death. (summary from goodreads)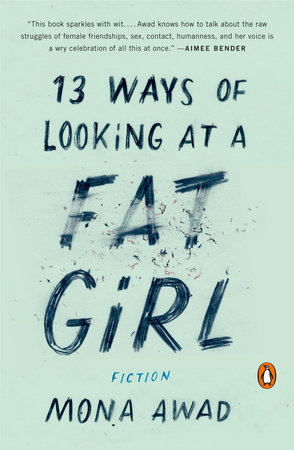 I finished this fantastic novel about two weeks ago and let me tell you….it's a yes from me. Review coming soon!
Growing up in the suburban hell of Misery Saga (a.k.a. Mississauga), Lizzie has never liked the way she looks—even though her best friend Mel says she's the pretty one. She starts dating guys online, but she's afraid to send pictures, even when her skinny friend China does her makeup: she knows no one would want her if they could really see her. So she starts to lose. With punishing drive, she counts almonds consumed, miles logged, pounds dropped. She fights her way into coveted dresses. She grows up and gets thin, navigating double-edged validation from her mother, her friends, her husband, her reflection in the mirror. But no matter how much she loses, will she ever see herself as anything other than a fat girl?
In her brilliant, hilarious, and at times shocking debut, Mona Awad simultaneously skewers the body image-obsessed culture that tells women they have no value outside their physical appearance, and delivers a tender and moving depiction of a lovably difficult young woman whose life is hijacked by her struggle to conform. As caustically funny as it is heartbreaking, 13 Ways of Looking at aFat Girl introduces a vital new voice in fiction. (summary from goodreads)
---
Thanks for reading!! Are there any books you would add to this list?