Hello, Bookworms, I have been on a thriller reading rampage recently, and No Exit had a huge part in my recent obsession. This book…..GUYS, IT IS SO INCREDIBLE, ANYTHING I CAN SAY WOULD NEVER DO IT JUSTICE! So you can imagine how delighted I am to be interviewing the author of this amazing book, Taylor Adams! We discuss some of the challenges he faced in writing No Exit, his dream cast for the film and his future projects!
---
---
Erin : What was the inspiration for No Exit?
Taylor : Back in college, I used to drive across Washington state to visit family back at home. The highway was dotted with lonely little rest stops every twenty miles or so, and I remember always wanting to set a story in one. I think they're naturally creepy locations – even in daylight – so what if you were stranded there with someone dangerous? I had recently visited Colorado during a snowstorm, so blizzards were on my mind. And then, for an inciting event, I tried to imagine the most awful and bone-chilling thing you could witness inside a stranger's car, and from there, the story almost wrote itself!
Erin : What were the key challenges you faced when writing this book?
Taylor : Locked-room thrillers are challenging to write because you have to be extremely economical with your story's characters, setting, and even objects. Everything is limited by design. Finding ways to continually raise the stakes was also a major challenge, since Darby's life is in danger very early in the book – but the story must keep escalating, or the action will become repetitive. The best solution is to dig deeper into the characters, and find out what they really fear to lose. For example, Darby doesn't just fear dying – she fears dying before she can make peace with her mother. Those are the true emotional stakes for her, and they make her brave actions all the more heroic.
Erin : If your book was to be made into a movie, who are the celebrities that would star in it?
Taylor : That's a tough question! Currently, NO EXIT, the film, is in pre-production with 20th Century Studios, and I'm so excited to see how it develops. Hypothetically, if I were in charge of casting (which I'm not), I do think Anya Taylor-Joy, from The Queen's Gambit, could be an absolutely incredible and kickass Darby.
Erin : What, in your opinion, are the most important elements of good writing?
Taylor : In my opinion, good writing is all about careful delivery of information. Knowing when to start a scene and when to end it. Knowing when to explain and when to let a mystery breathe. Knowing when to surprise with a jolt of danger, and when to slow things down so the reader can reset. I think it all comes down to a sort of storytelling instinct. Kind of like effectively telling a joke – there's a lot of right ways to do it (and a lot of wrong ways, too). The important thing is that you engage the reader with your unique voice, whatever it may be.
Erin : Do you have any writing buddies?
Taylor : I'm actually kind of a solitary writer. I'm pretty quiet in person, so I guess writing just fits my personality! I never let anyone see my first drafts (for good reason, because my first drafts are always terrible and often unreadable). I also like to rewrite my books quite a few times to get the main elements tightened up before I show them to any beta readers. But when I do, my girlfriend Jaclyn and my parents provide absolutely invaluable input. It's always amazing how many blind spots you can have as a story's author, and outside perspective is essential.
Erin : Writing can be an emotionally draining and stressful pursuit. Any tips for aspiring writers?
Taylor : I completely agree. I'm writing the fifth book of my career right now, and it's every bit as hard as my first one was (perhaps harder, because back when I started writing I didn't know how many things I was doing wrong!). My main advice to aspiring writers is to write EVERY day. If you can, try to get up early before work, or squeeze it into your evenings before bed. Whatever works for you. What matters most is creating a sturdy schedule (for example, mine is writing at least 1,000 words a day, no excuses) and then forcing yourself to stick to it. It's hard! It's a long, difficult, and sometimes-discouraging road. Sometimes you'll find you have to shelve or toss out a book you've put months or even years into. It can be downright painful – but just remember that every word you write is more practice, and it's never, ever wasted. Keep writing.
Erin : Any future plans? Upcoming projects?
Taylor : Yes indeed! My next thriller HAIRPIN BRIDGE releases in hardcover this June, and Riley Sager has called it "a shot of adrenaline straight to the heart!" It's about a young woman who believes her twin sister's mysterious suicide was actually a murder, and sets out to prove it by trapping and confronting the killer herself. The only problem: her suspect is a cop. Here's a link: https://www.harpercollins.com/products/hairpin-bridge-taylor-adams?variant=32879802548258
Erin : And here's a final fun question, can you share a link to a recipe you love?
Taylor : I'm a pretty terrible cook! But I do like making this easy, fast seven-layer dip for parties (except, I cheat and make it a six-layer dip because I don't like olives).
https://www.spendwithpennies.com/7-layer-dip/
About Taylor Adams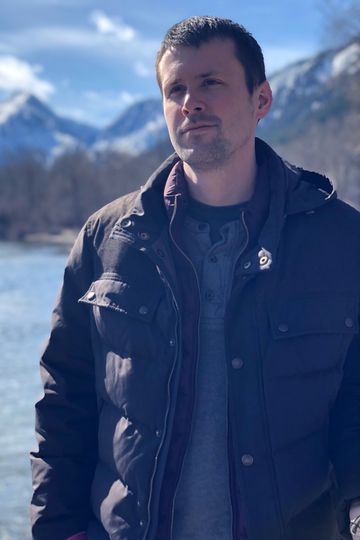 Taylor Adams directed the acclaimed short film And I Feel Fine in 2008 and graduated Eastern Washington University with the Excellence in Screenwriting Award and the prestigious Edmund G. Yarwood Award. His directorial work has screened at the Seattle True Independent Film Festival and his writing has been featured on KAYU-TV's Fox Life blog.
He has worked in the film/television industry for several years and lives in Washington state. EYESHOT is Adams' debut novel, published by Joffe Books. (less)
---
No Exit
A thriller about four strangers, a blizzard, a kidnapped child, and a determined young woman desperate to unmask and outwit a vicious psychopath
On her way to Utah to see her dying mother, college student Darby Thorne gets caught in a fierce blizzard in the mountains of Colorado. With the roads impassable, she's forced to wait out the storm at a remote highway rest stop. Inside are some vending machines, a coffee maker, and four complete strangers.
---
Thanks for reading!! You better be adding No Exit to your tbr….I'M WATCHING!