Hello Bookworms, now today's post is quite possibly the most IMPORTANT post I have ever made, and will ever make. If you know me personally, you know that no matter how many books I read, how many novels I fall in love with, there will always be a special place in my heart for the Percy Jackson Series. Now I am taking the first" FIVE BOOKS AND NEXT SERIES THIN INSERT THAT. And I will go down preaching that Percy Jackson is better than Harry Potter(ooohh, I said it😧).
Anyways, I first discovered the Percy Jackson books from a friend when I was 7/8 and i have loved them ever since. Now if you are doubting my love, let me just tell you that I did everything from fan art, to fan-fiction, to playing in a mystical world with my sister pretending I was in the book. Now no matter how much older I get, and how much the books wouldn't appease to me now as they did back then, I will ALWAYS LOVE THEM! Now that we have gotten this dramatic introduction out of the way, onto my thoughts!
Percy Jackson and the Olympians
When I first read it(age 8) :
When I reread it now(age 17) :
The series that started it all! Not only did these characters make my passion for reading even stronger, but they sparked a new interest in mythology. My 9-year-old self was so in love with these books that I would daydream daily about fighting alongside Percy or Annabeth(corny right).
From time to time I do reread these books, particularly the ones from the next series, but I will never forget the influence these books made on my childhood. The idea behind this series is that these Greek gods and all of the mythology move with western civilization. The Lightning Thief kicks off the series, introducing a charming cast of characters that you instantly fall in love with.Our main character Percy Jackson is immediately introduced, and his relatable narration accompanies the reader throughout the series. The characters relationships, alongside the action-packed plot, is a perfect mix that every reader can enjoy. But what I loved most about this series is the accuracy of the mythology that Rick Riordan incorporates into these novels. The mythological personages and monsters that Riordan brought into these books made them all the much better, and I loved how he tweaked these creatures to suit his storyline. The gods and goddesses didn't seem like unknown creatures but were written to sound approachable, light-hearted and funny.
I would like to add that I am going to be very predictable and say that Annabeth was my favourite character😬. She is honestly impossible not to love, her intelligence and strength are constantly admired throughout the series, and her attitude just ties in all in perfectly!!! I will also admit that my love goes so deep for this book that I may or may not have sent Rick Riordan multiple fan letters and emails😳.
Anyways, let's take a short break to discuss how HORRENDOUS AND INSULTING the movie for The Lightning Thief and the Sea of Monsters was. When my friend and I watched it, I remember we took a tally of how many things were inaccurate in the movie, and the total tally was over 200! Not only was the movie simply inaccurate, but the characters didn't even look like the ones in the book! WHY WAS ANNABETH A BRUNETTE??? HOW HARD IS IT TO HIRE A BLOND ACTOR?!!?
The plot was also all over the place, and as someone who was an expert on those books back then, even I had trouble keeping up. I do not know why in the world Rick Riordan would approve of these movies, because for years to come I needed to advocate for how much better the books were from the movie. I met so many people who refused to read the book because they thought it was exactly how it was portrayed in the film. OH NOOOO!!
Okay so let's move on to the next series. Now this was a spin-off of Percy Jackson and the Olympians that was released shortly after The Last Olympian.
---
The Heroes of Olympus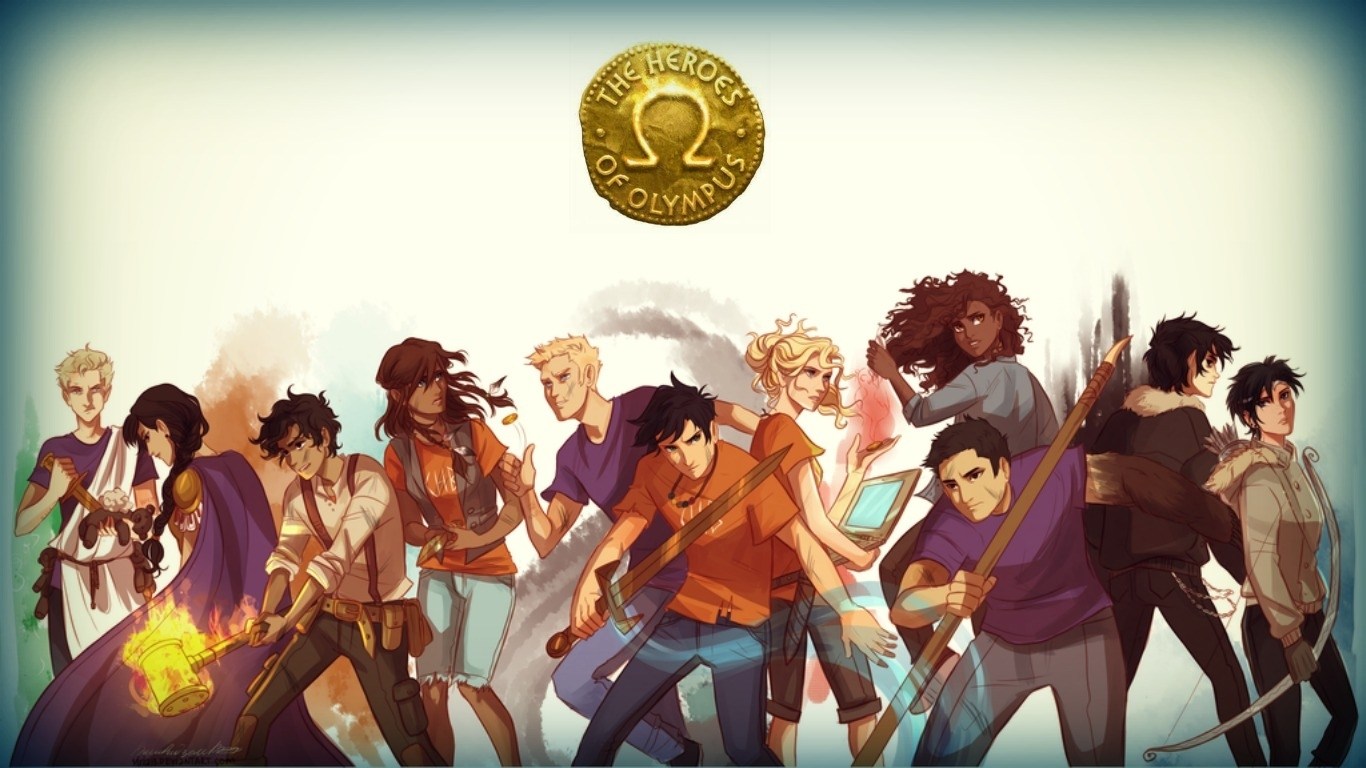 When I first read it(age 9/10) :
When I read it now(age 17):
There is a new generation of demigods in this series, alongside the old ones that we know and love, and they team up together to embark on one of their most dangerous challenges yet. As I read this series when I was around 11/12 I enjoyed this series a lot more than the previous one, as the writing was more mature, and the plot had more depth. This is why I can still return to these books today as a 17-year-old and enjoy them.
Rick Riordan's writing style is one of the ~best~ and nobody can tell me otherwise! The Heroes of Olympus just goes to show how well he can incorporate new characters, and bring mythology to life. This series was jam packed with entertaining reads, intriguing drama and plots for ~days~.
Overall, I am just that irritating girl who has nothing bad to say about any of these books. And I will go down like that for as long as I live.
Amidst all the adventure, magic and mythology, these books are truly a heart-warming journey about discovering friends who ultimately become family, and houses that eventually become homes. If you enjoyed the Percy Jackson series, it only gets better from there. Rick Riordan has written dozens of other mythological series, and even some smaller books branching off from the Percy Jackson series.
Thanks for reading! Subscribe for more blog posts!!