Hello, bookworms, like many others, I have a deep love for traveling, and always yearn to explore. In this post, I will be sharing some books that will inspire and motivate you to take your dream vacation.
1.Anna and the French Kiss by Stephanie Perkins – Anna is looking forward to her senior year in Atlanta, where she has a great job, a loyal best friend, and a crush on the verge of becoming more. Which is why she is less than thrilled about being shipped off to boarding school in Paris–until she meets Étienne St. Clair. Smart, charming, beautiful, Étienne has it all…including a serious girlfriend. But in the City of Light, wishes have a way of coming true. Will a year of romantic near-misses end with their long-awaited French kiss.(Goodreads)
Location: Paris, France
2. Love and Gelato by Jenna Evans Welch – Lina is spending the summer in Tuscany, but she isn't in the mood for Italy's famous sunshine and fairy-tale landscape. She's only there because it was her mother's dying wish that she get to know her father. But what kind of father isn't around for sixteen years? All Lina wants to do is get back home.But then she is given a journal that her mom had kept when she lived in Italy. Suddenly Lina's uncovering a magical world of secret romances, art, and hidden bakeries. A world that inspires Lina, along with the ever-so-charming Ren, to follow in her mother's footsteps and unearth a secret that has been kept for far too long. It's a secret that will change everything she knew about her mother, her father—and even herself.People come to Italy for love and gelato, someone tells her, but sometimes they discover much more.(Goodreads)
Location: Italy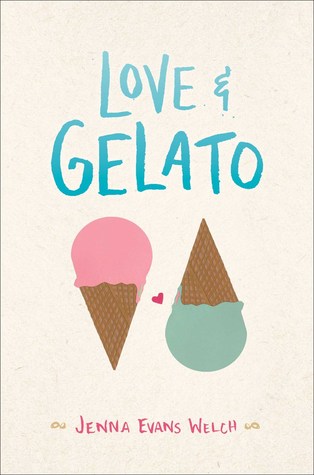 3. Below Northern Lights by Ashlee Cowles -Nineteen-year-old war veteran Lucas Santiago is grappling with the knowledge that he'll never walk again when he learns his best friend, Seth, hasn't returned from his solo trek through Scotland. If Seth doesn't report back soon, he's risking an AWOL charge that could end his military career. Lucas has no desire to leave the house, let alone brave a foreign country in a wheelchair, following bizarre clues Seth left behind. But Lucas's sister, Gabi—who has feelings for Seth—won't take no for an answer. The one thing Lucas never expects when he agrees to Gabi's harebrained scheme is meeting Skye, a young British veteran with a traumatic past of her own. Skye also has unwavering confidence and a thirst for adventure—qualities Lucas sorely lacks as he struggles to adjust to his new life. The trio sets off on a road trip to search for Seth in the Scottish Highlands, where it becomes clear to Lucas that if he ever hopes to win the heart of an irresistible force like Skye, he'll need to resurrect the fearless fighter he used to be. He's falling hard for Skye, but can he again fall in love with life?
Location: Scotland 
4. 13 Little Blue Envelopes by Maureen Johnson -Inside little blue envelope 1 are $1,000 and instructions to buy a plane ticket.In envelope 2 are directions to a specific London flat.The note in envelope 3 tells Ginny: Find a starving artist. Because of envelope 4, Ginny and a playwright/thief/ bloke about town called Keith go to Scotland together, with somewhat disastrous though utterly romantic results. But will she ever see him again? Everything about Ginny will change this summer, and it's all because of the 13 little blue envelopes.
Location: Scotland
5. Mosquitoland by David Arnold -After the sudden collapse of her family, Mim Malone is dragged from her home in northern Ohio to the "wastelands" of Mississippi, where she lives in a medicated milieu with her dad and new stepmom. Before the dust has a chance to settle, she learns her mother is sick back in Cleveland.So she ditches her new life and hops aboard a northbound Greyhound bus to her real home and her real mother, meeting a quirky cast of fellow travelers along the way. But when her thousand-mile journey takes a few turns she could never see coming, Mim must confront her own demons, redefining her notions of love, loyalty, and what it means to be sane. Told in an unforgettable, kaleidoscopic voice, Mosquitoland is a modern American odyssey, as hilarious as it is heartbreaking.
Location: Cleveland, US
6. Love & Other Train Wreck by Leah Konen – A twenty-four-hour romance about two teens who meet—and perhaps change their minds about love—on a train ride to Upstate New York in the middle of a snowstorm .One train ride. Two strangers.Noah is a hopeless romantic. He's heading back home for one last chance with his first love, whom he broke up with when he went off to college. Ammy doesn't believe in true love—her parents being prime examples. She's escaping from a mom who can't take care of her to a dad who may not even want her. That is, until one winter night when Noah and Ammy find themselves in the same Amtrak car heading to Upstate New York. After a train-wreck first encounter between the two of them, the Amtrak train suddenly breaks down due to a snowstorm. Desperate to make it to their destinations, Noah and Ammy have no other option but to travel together. What starts off as a minor detour turns into the whirlwind journey of a lifetime, and over the course of the night they fall in love. But come morning their adventure takes an unexpected turn for the worst. Can one night can really change how they feel about love…and the course of their lives forever?
Location: New York
---