Hello Bookworms, this month, I felt the sudden urge to rewatch ICarly. And so I did. But why, you may be asking? Perhaps since the reboot is coming soon, or that I've been wanting a butter sock lately(if you know you know), either way, I rewatched it and it was the best decision I've made in a long time. And as someone who loves food, I always keep an eye out for food that is mentioned or displayed in the books I read and shows/movies I watch. Learning the purpose or significance behind why a particular food is made or shown brings me such joy, and connects me to that specific book/show so much more! Specifically, in ICarly, Spaghetti Tacos are a recipe that every viewer knows and loves. Spencer Shay, Carly's goofy and creative older brother has made it countless times and each time I've seen it mentioned, it makes me hungry😝. This recipe is ingrained in my brain and so is the show, so making this just made ~sense~.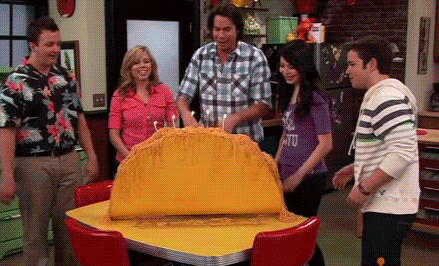 This recipe is quite simple to make, and as a girl who loves her spices, none are lacking here! Feel free to add hot sauce into the dish as well if you are like me and can't resist the urge to add it to everything😎. 
---
Spaghetti Tacos
This recipe is created by myself and is vegetarian as I don't eat meat. If you would like to tweak it to your preferences and have meat, feel free to follow this recipe(or this) on how to cook the meat! But if you want to keep the same spices and flavour as mine, combine the two♡ Without further ado, here is my recipe!
Ingredients:
1 package Spaghetti
1 package crisp taco shells
1 can of beans
1/4 cup grated Parmesan cheese
1 tablespoon olive oil
1 medium onion, chopped
1 garlic clove, minced
1 tablespoon chilli powder, 2 teaspoons ground cumin, 1 tsp red pepper flakes
2 tbsp tomato paste
3-4 Large Tomatoes
salt/pepper to taste
2 cups Greek Yogourt(optional)
1 tbsp Lemon(optional)
Directions:
Boil a pot of water and preheat the oven to 350°F.
Cook the pasta according to package instructions.
For the sauce, heat oil over medium heat in a pan. Add onion, garlic, seasoning, salt and pepper and cook and stir until tender.
In a food processor, add in tomatoes and pulse 5 times before adding to the pan.
Stir in beans and tomatoes; heat through. Let cook on low heat.
Cook your spaghetti until al dente, drain and put back in the pot. Drizzle with olive oil, mix the pasta with the sauce and beans.
After the oven is done preheating, place the shells on a pan to crisp up for 15 minutes.
Keep the spaghetti on low heat and prepare the "healthy sour cream" by mixing the yogurt and lemon.
Build the tacos, and top with cheese!
---
✨The Final Product✨
The image on the left got cut off, but the table had the spaghetti(with the beans, and tomato), the sour cream, tacos and cheese!
---
And if you are hungry for dessert: here's how to make Sam's Fat Cakes(or here is another substitute).
Additionally, please watch this I am begging you. Jerry Trainor is the funniest man alive…there is NO COMPETITION! Watch it while making this recipe, watch it before you go to bed, watch it during class, just watch it🥰
Thanks for reading! Have you watched ICarly? Do you love it as much as I do?